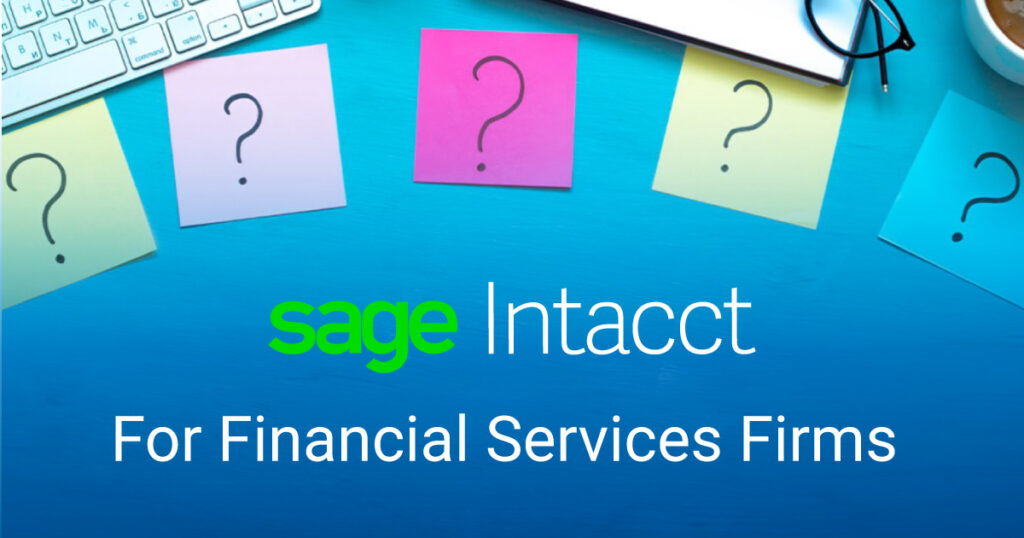 Why Choose Sage Intacct Financial Services Accounting Software?
If you're managing three or more multi-entities, spending 5+ days to close the books, using Excel to do 40% or more of your reporting, and struggling to stay compliant, then it's time to seriously consider a best-in-class cloud accounting and financial management solution like Sage Intacct. As a finance leader in financial services, deliver powerful business results with a proven solution. Use Sage Intacct to:
Reduce multi-entity consolidation time up to 85%, going from days/weeks to minutes
Cut time to close by 40-70%
Reduce reporting time by 70-90% via automated processes
Access dashboards that highlight your financial performance in real time
Minimize manual tasks, enabling you to be more strategic and value-driven
Manage access controls to geographically dispersed employees

What are the key features of Sage Intacct's financial services accounting software?
From multi-entity consolidations to creating custom reports with real-time visibility, Sage Intacct allows financial services firms to spend less time on manual, error-prone tasks and more time on strategic initiatives that help you to optimize your ROI. Sage Intacct's financial services accounting software offers:
Exceptional core accounting: Our core accounting features provide the solid foundation for your financials: a dimensional general ledger, accounts payable, accounts receivable, cash management, purchasing, order entry, and Sage Intacct Collaborate to communicate with your team in real time.
Multi-entity and global consolidations: Push-button consolidations aggregate transactions in minutes across your entire financial services firm with decentralized payables, inter-entity transactions, multiple currencies, funds, departments, locations and so forth.
Reporting and dashboards: Gain real-time visibility into every aspect of your firm's finances; whether you're interested in viewing fund performance, AUM, profit & loss, expenses generated by department or employee, or any other data point that matters most to your firm.
GAAP compliance and control: Reduce risk and cost with automated workflow, internal controls, and streamlined compliance with front-to-back-office collaborative audit trails.
Real-time visibility and transparency: Benefit from deeper insights that enable faster, data-driven decision-making by combining financial and operational data in new ways.
True cloud technology with open API: Track metrics central to your firm's operations and processes by using key data from payroll, budgeting, CRM systems like Salesforce, and other existing or future systems important to your firm.
How do you know if you've outgrown your current accounting system?
With a modern financial services accounting solution like Sage Intacct, you gain:
Always on, real-time visibility. Accessing your financials anytime, anywhere is essential for making smarter, faster business decisions. Since QuickBooks and/or Excel offer very limited reporting — with no custom dashboard capabilities — your visibility into key data points is greatly hindered. Forcing you to make important decisions based on outdated information. While with Sage Intacct, you gain complete transparency across your firm – anytime, anywhere.
Optimized productivity. Automated workflows allow you to streamline processes that not only save you time, but also reduce errors. As financial services firms evolve and grow, they often need to manage increasingly diversified portfolios (e.g., traditional equity and fixed-income instruments, hedge funds, private equity and other partnership vehicles…etc…). If you're using QuickBooks or Excel as your financial foundation, cumbersome workarounds and manual processes are the end result. While Sage Intacct enables you to automate core accounting and finance processes so you can focus on what's most important.
Uber scalability. As your firm grows, you need a proven accounting system that can grow with you. Sage Intacct provides a scalable infrastructure that can: handle increased transaction volumes, easily add new entities, handle multiple currencies, support regulatory requirements, and offer financial controls to ensure compliance and auditability. QuickBooks and Excel simply weren't designed for growing financial services firms that need advanced functionality to manage complex processes.
How much does Sage Intacct's financial services accounting software cost?
Sage Intacct is a highly customizable, modern cloud-based financial services accounting software solution that meets the business needs of financial services firms of varying sizes and complexity. The cost for Sage Intacct is dependent on the size of your accounting team and the modules you choose to implement.
Why is Sage Intacct considered the best-in-class financial services accounting software solution?
Since its inception in 1999, Intacct established itself as the leading provider of cloud financial management software and continues to receive worldwide recognition for its robust capabilities.
Sage Intacct is the only preferred provider of financial applications by the American Institute of Certified Public Accountants (AICPA), the world's largest member association representing the accounting profession. In addition, the company is ranked as #1 in customer satisfaction by G2 Crowd, a peer-to-peer review site that compares the best business software and services available. Recently, Sage Intacct received the highest product score in Core Financials for the Lower Midsize Enterprises Use Case – for the fourth year in a row! – in Gartner's 2020 Critical Capabilities for Cloud Core Financial Management Suites for Midsize, Large and Global Enterprises report.