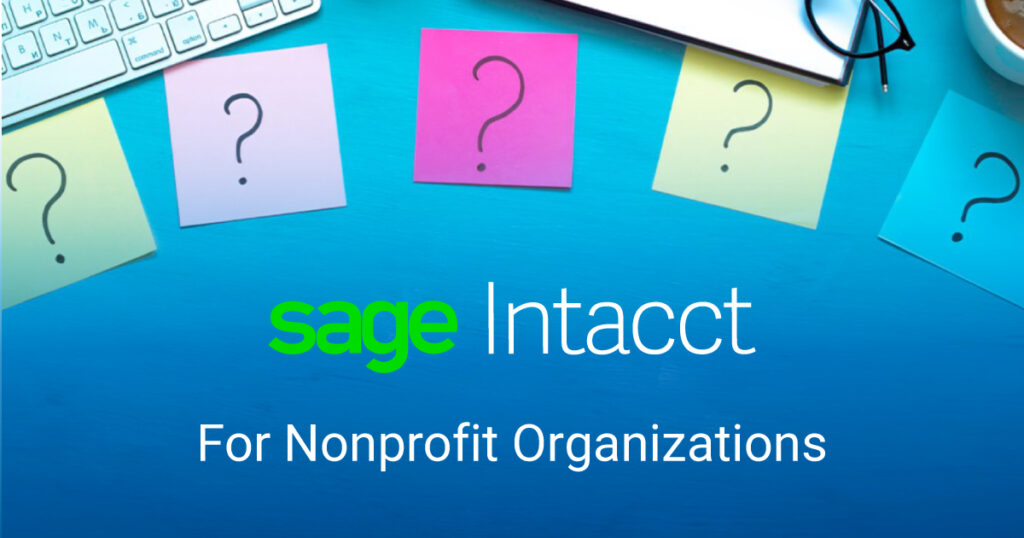 Is Sage Intacct a fund accounting software?
If you're trying to master the unique challenges of fund accounting while trapped by the limitations of simple spreadsheets, it's time to look at Sage Intacct. Only Sage Intacct's fund accounting software gives you the clear, real-time visibility you need to efficiently and proactively pursue your organization's mission and manage your growth while reducing fund accounting process costs.
Sage Intacct's fund accounting software helps nonprofits and fund administrators:
Easily manage and track funds and grants
Increase productivity by automating manual processes
Ensure appropriate stewardship of funds and donations
Deliver real-time reporting and visibility to stakeholders
Manage access and permissions to geographically dispersed employees and volunteers
What are the features of Sage Intacct's nonprofit accounting software?
From compliance reporting to generating outcome metrics and providing real-time visibility, Sage Intacct allows nonprofit organizations to spend less time on administrative tasks and more time on what really matters in achieving their mission. Sage Intacct's nonprofit accounting software features:
Strong core accounting: The key core accounting features provide the foundation for your financials: a dimensional general ledger, accounts payable, accounts receivable, cash management, order management, purchasing, and Sage Intacct Collaborate to communicate with your team in real-time.
Multi-entity and global consolidations: Push-button consolidations aggregate transactions in minutes across your nonprofit organization with multiple entities, currencies, grants and donors, and locations.
Fund accounting: Create separate closes for each revenue source along with a regular series of specific reports including the statement of activities, statements of financial position, statements of cash flow, and Form 990.
Reporting and dashboards: Gain real-time visibility into every aspect of your organization's finances; whether you're interested in which funds were used for each project, the performance of your organization by location or team, the expense tied to each volunteer or employee, or any other aspect unique to your organization.
Control and compliance: Reduce risk and cost with automated workflows, internal controls, and streamlined compliance using built-in nonprofit-specific reports and FASB and IRS-compliant financial statements.
Revenue recognition: Save time with automated revenue recognition by streamlining ASU 2018-08 and ASC 606 compliance.
Visibility and transparency: Benefit from increased insight for faster financial decision-making by combining financial and operational data in new ways.
Grant tracking and billing: Improve delivery, reimbursement, reporting, and audit of your grants with centralized and automated grant tracking and billing functionality.
True cloud technology with open API: Track metrics central to your organization's operations and programs by leveraging key data from donor management, payroll, budgeting, CRMs like Salesforce, and other existing or future systems important to your organization.
What's the difference between Sage Intacct and QuickBooks for nonprofits?
QuickBooks was built for the needs of small businesses. When nonprofits grow and become more complex, they often outgrow the capabilities of QuickBooks and need a more robust solution like Sage Intacct. Some of the biggest differences our customers notice when upgrading to Sage Intacct from QuickBooks for nonprofits, includes:
Anytime, anywhere business visibility: Real-time visibility into metrics is essential for faster financial decisions. QuickBooks offers canned reports — and no dashboards — so your visibility is limited, and you're often forced to make decisions based on outdated information.
Increased productivity: Automation and workflows allow you to streamline processes to save time and reduce errors. And many nonprofits naturally and gradually develop sophisticated accounting requirements (such as revenue recognition and multi-entity consolidation). If QuickBooks is the financial foundation, that often means cumbersome workarounds because QuickBooks doesn't provide built-in capabilities for these complex processes, leaving users over-reliant on spreadsheets and manual data entry and re-entry.
Scalability: As your organization grows, you need an accounting system that can grow with you. Sage Intacct provides a scalable architecture that allows for an increase in transaction volume and the ability to easily add new entities, a multi-ledger system, and robust financial controls to ensure compliance and auditability. Despite its popularity as a business application for small businesses, QuickBooks simply wasn't designed for growing nonprofits that need advanced functionality to manage sophisticated processes.
How much does Sage Intacct cost?
Sage Intacct is a highly configurable, complete, modern cloud-based software solution that accommodates the needs of nonprofit organizations of varying sizes and complexity. Your cost for Sage Intacct will depend on the size of your accounting team and the modules you choose to implement. On average, Sage Intacct nonprofit customers spend about $6,000 to $35,000 on their annual subscription. Implementation typically costs one to one and a half times the amount of your first year's annual subscription.
But cost is a relative term. With efficiency and productivity gains, our nonprofit customers state that on average the software pays for itself in less than 6 months. For the nonprofits below and many more, Sage Intacct has been a worthwhile investment. With Sage Intacct…
Vitamin Angels identified $200,000 in logistical savings in Nigeria and was able to deliver vitamins to an additional 800,000 undernourished pregnant women and children.
Hopi Tribe Economic Development Corporation improved cash flow by $500,000 and moved three struggling entities back into the black.
Sandals Church achieved a 30% increase in attendance and 25% growth in donations and was able to open six new campuses.
Why is Sage Intacct considered the best nonprofit accounting software solution?
Sage Intacct has been an innovative leader in the cloud financial management and accounting space for more than two decades. Over that time, Sage Intacct has accumulated widespread acclaim at the company level, as well as for its product and employee achievements.
As the first and only AICPA preferred provider of financial management solutions, Sage Intacct is considered the best nonprofit accounting software solution by independent finance and software experts like the AICPA, Gartner, HFMA, G2, TrustRadius, and many others.
In its G2 Grid Report for Nonprofit Accounting, G2 named Sage Intacct as a leader with the highest overall score for nonprofit accounting software. And it wasn't just this year. Since 2015, Sage Intacct has consistently had the highest scores on satisfaction, product direction, and net promoter score when compared to other cloud accounting software providers.