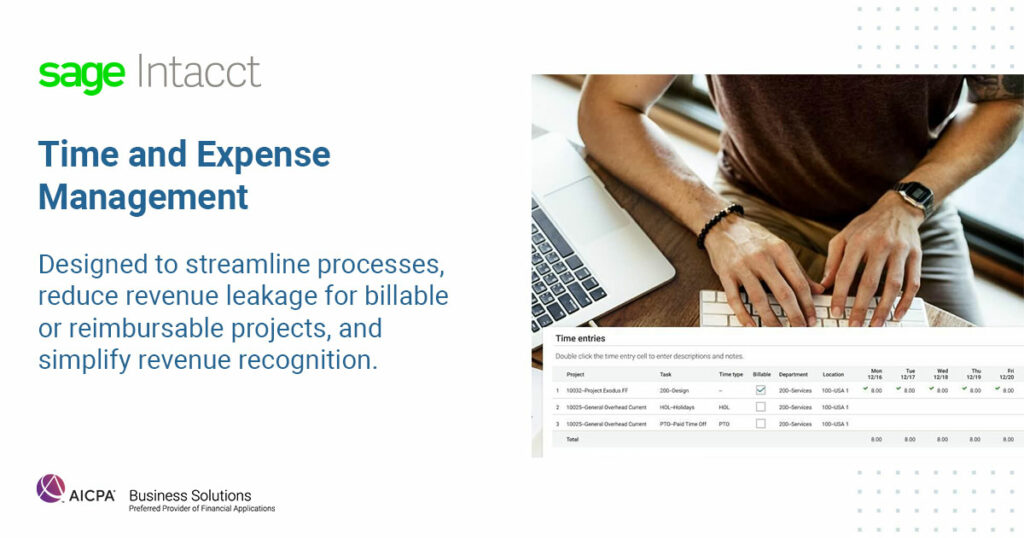 What type of time can I track?
Sage Intacct works great for both salaried and hourly employees. If your employees charge time to projects, Sage Intacct incorporates project time tracking so that you can understand the effort and resources for internal projects, client projects, or overhead.
If you're a professional services organization who generates revenue from client projects, you may want to consider Sage Intelligent Time, our AI-powered time solution. Your professionals use a time assistant, who reconstructs their work week for them and suggests client projects for their work. Using the time assistant, every minute of time can be collected for financially-minded project management, including more accurate billing, project estimates, and resource management.
Can I set an approval process for time and expenses?
For timesheets, you can establish up to 5 levels of approvals. Approvals are done by a manager (department, project, or an employee manager), by an external user (customer), or a specific user in the company.
You can create an approval path for expense reimbursements as well. You can set value approval thresholds and specify a minimum number of approvers. You can also set preferences for notifications, including notifications for all submissions, no notifications, or only for amounts above a certain threshold.
Can I specify who can submit time for a project?
Yes, you can set up your projects so that only employees that are assigned to a project can submit time. You can also create rules to enforce policies for how much or when employees can work.

Can I include timesheet and expense attachments with the project invoice?
Yes, you can automatically link source document attachments to project invoices and easily access them with a click. You can also choose to include source documentation in email invoices to reduce questions or discrepancies and to speed up the payments process.
Learn how Clinical Trial Consulting leverage project and labor visibility to manage existing employees' workloads, as well as predict future employment needs based on upcoming projects and proposals.