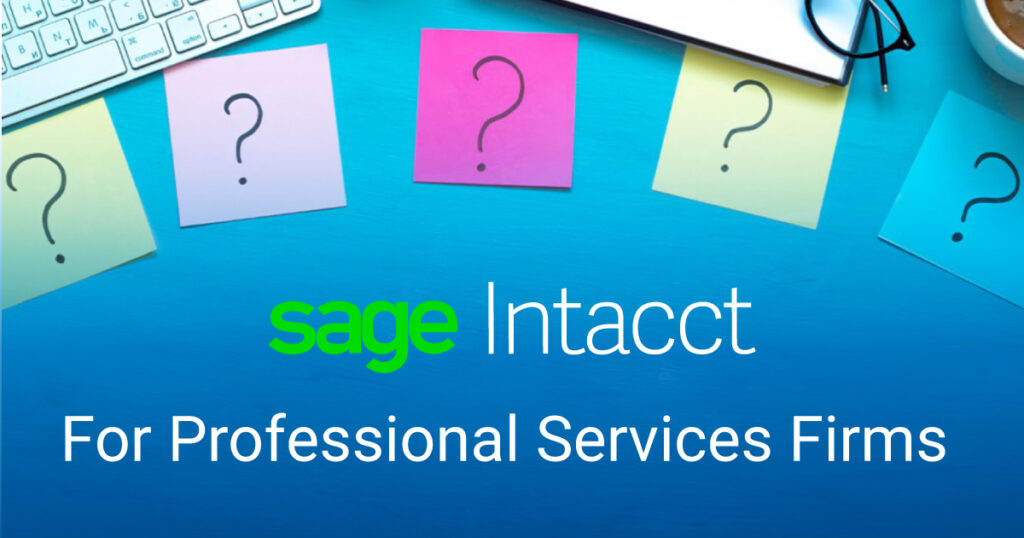 What does Sage Intacct offer for project-based service businesses?
Sage Intacct is a comprehensive financial management system with tailor-made features for project-based businesses. Over 1.5 million projects have run on Sage Intacct, with companies that have financial management needs that range from simple cost tracking to detailed project task cost allocation and complex billing requirements. Sage Intacct's cloud-based system is centered on a high-powered general ledger that provides dimension-level tracking for all of your transactions. What that means is you can significantly reduce the number of GL accounts you use, while also significantly expanding the way you report on your data. With automation of processes related to project costing, vendor management and accounts payable, project billing, time and expense tracking, and resource management, Sage Intacct can allow your finance team to focus on strategy instead of the administrative process.
What is Professional Service Automation (PSA), and how does Sage Intacct provide PSA support?
Professional Service Automation (PSA) is a phrase often used to refer to a wide range of software features built to serve service organizations such as Consulting, Marketing Agency, Engineering, Architecture, Information Technology, and many other types of service providers. Many PSA software providers will use the term to refer to features related to the front of the project life cycle such as proposals, estimates, and forecasting. PSA can also include resource management, time and expense tracking, vendor management, and project billing.
Sage Intacct is a full-featured accounting solution for professional services. Customers rely on Sage Intacct to 'own the dollar' for all of their project financial management needs. This covers project budgeting, billing, time and expense, AR/AP, vendor management, purchase orders, and much more. By 'owning the dollar' features extend to provide robust project financial reporting, resource management, and a suite of tools designed for operations and project managers.
Why are Sage Intacct Artificial Intelligent timesheets changing the game for businesses that require time tracking?
The professional service industry is constantly faced with challenges of revenue leakage, low utilization, and strained project profit. Accurate and complete time entry is a major contributing factor to these struggles. Sage Intelligent Time is the only AI-powered time entry system built into a full-featured ERP system. Sage Intelligent Time provides each member of your team with an AI-powered time assistant that provides suggested time entry cards based on that employee's calendar, email, and other activity. Using machine learning, the Time Assistant gets smarter and continuously improves the speed and accuracy of your teams' timesheet.
Sage Intelligent Time is providing a solution to an age-old problem for service-based businesses. Artificial intelligence and machine learning are providing a tangible tool for your team to provide continuous and trusted insights regarding their time. With this insight, your project managers can make better decisions, your project pricing is more accurate, and your invoicing and close process are faster than ever.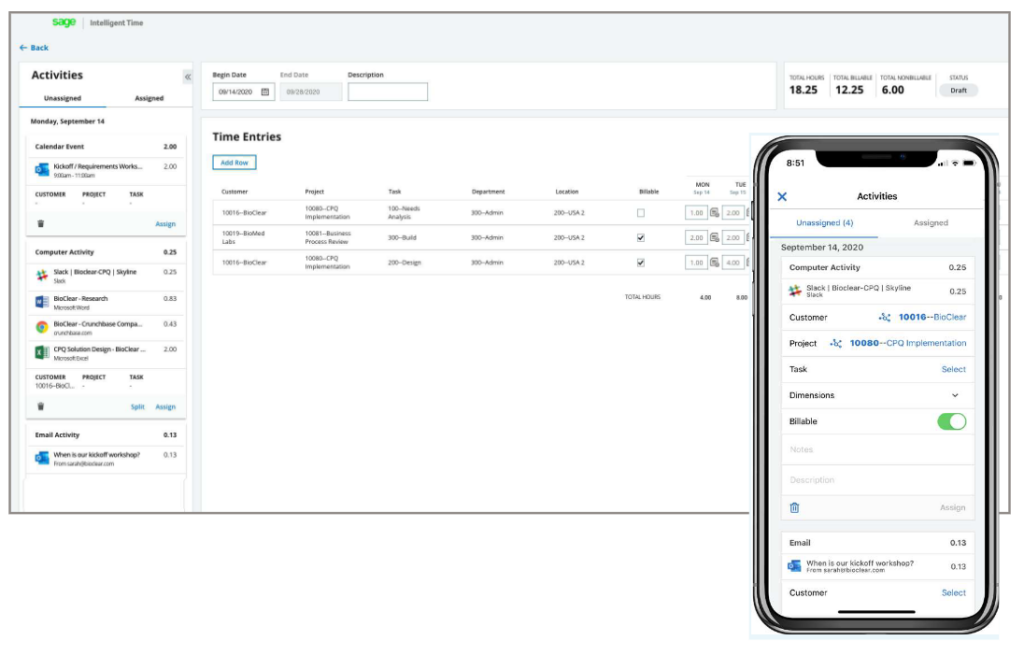 How does Sage Intacct improve the billing process for professional service organizations?
For many growing professional service companies, the billing process is too labor-intensive to scale. Billing for professional services can be complex depending on the various elements that you need to include on your invoice. Sage Intacct is built to handle even the most complex invoicing requirements, as well as the variety of revenue recognition methods that can be associated with them. Automation around time entry, expenses, purchase orders, vendors, and all the other components required for billing, are instantly available for your team to easily draft and issue invoices, helping you scale your business without being held back by cumbersome processes.
What type of financial reporting does Sage Intacct provide for professional service organizations?
When it comes to financial reporting, automation, accuracy, and customization are key requirements for an effective solution. Sage Intacct financial reporting excels at all three. By leveraging the dimensions of the general ledger, reports can be grouped and sorted in a near unlimited way. Financial reporting done right can provide the insight your financial team needs to go from burdened with administrative tasks, to focusing on strategic planning. Whether you're creating multiple profit and loss reports, or automating project reports for your project managers, Sage Intacct can handle what you need.