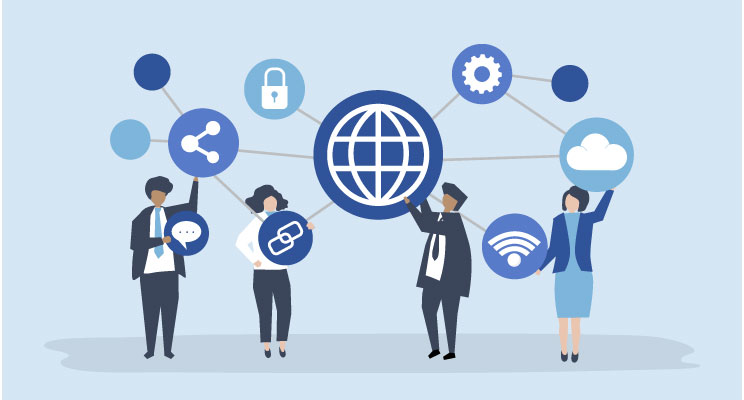 BY RSM US LLP
Digital transformation shouldn't only interest the Fortune 500. After all, it's a movement that impacts nearly everything in the global economy and society. Firms that adopt a proactive strategy are poised to reap the significant benefits of digital transformation. Small to midmarket firms can begin with a small step—migrating from the on-premises version of QuickBooks to cloud-based enterprise resource planning (ERP) platforms.
What is digital transformation?
Digital transformation involves the use of technology in a strategic way to enhance business capabilities. The term doesn't refer to just any technology—paper clips are still considered technology in some circles. Digital transformation encompasses new, untethered digital technologies, such as software-as-a-service platforms; tablets, mini-laptops, and smartphones; hosted information technology (IT) infrastructures, and even sensors and smart objects.
The benefits of digital transformation in business are well documented. They include accelerated innovation, better customer experiences, streamlined and lower-cost operations, increased sales, higher customer retention, expansion into new markets and improved decision-making. The list is long because every domain—from financial services to manufacturing—can leverage digital technologies to achieve new milestones and address persistent problems.
Small to midmarket firms don't have to be excluded from these technology-based breakthroughs and, especially, from the benefits of digital transformation. Many firms in this category are beginning their own transformational journeys simply by moving away from on-premises QuickBooks solutions to cloud-based, ERP systems.
Starting out with what seemed like a good idea at the time
Many small to midmarket firms begin life with good intentions. They purchase a stable, low-cost, on-premises accounting software package like QuickBooks because it's a solid workhorse. However, as they grow, QuickBooks meets fewer and fewer of their needs. Eventually, the lack of portability, rudimentary workflows, slow processing speeds (as file sizes increase) and limited support for multiple currencies and locations becomes a drain on the operation.
When the needs of a growing company outweigh the cost savings of on-premises QuickBooks, some companies upgrade to QuickBooks Online to get temporary relief, while other small to midmarket firms adapt in place by implementing workarounds and integrations. However, costs are associated with managing growth in this way—more IT expense, disjointed workflows and the inability to acquire new competencies, make better decisions and challenge larger competitors—issues that a true, digitally aggressive transformation strategy can alleviate.
How firms with a transformation strategy win
Successful small to midmarket firms live in the future. Once they experience growth, they migrate to technology that is more nimble, scalable, and interoperable than on-premises QuickBooks or QuickBooks Online platforms. Rather than fall into the never-ending, troubleshooting trap, these firms enjoy benefits that others don't:
When companies merge, a cloud-based ERP platform can absorb multiple offices and warehouses into a single platform, and realign product tracking from new points of origin. It can also increase security and access to information from multiple locations, and add real-time visibility into key business processes, no matter where work is performed.
When companies expand their product lines, an ERP system helps automate ordering processing and inventory updates. Human resource planning is also enhanced, delivering more flexibility to integrate additional functionality and set the stage for future growth.
When companies move into overseas markets, a cloud-based ERP system expands access to data. It increases visibility and efficiency in the close process, reduces time rebilling and reclassifying data, and increases system stability and data consistency.
Digital transformation is inevitable. The Harvard Business Review reports, "In two years, the number of business leaders expecting significant impact from digital technologies will more than triple from 21 percent today to a majority of nearly 65 percent." With the playing field increasingly leveled by technology, the time has never been better for small to midmarket firms to take the digital leap.
This content was originally posted here. Illustration adapted from Freepik.