Here is the list to get a quick understanding of the highlights in this release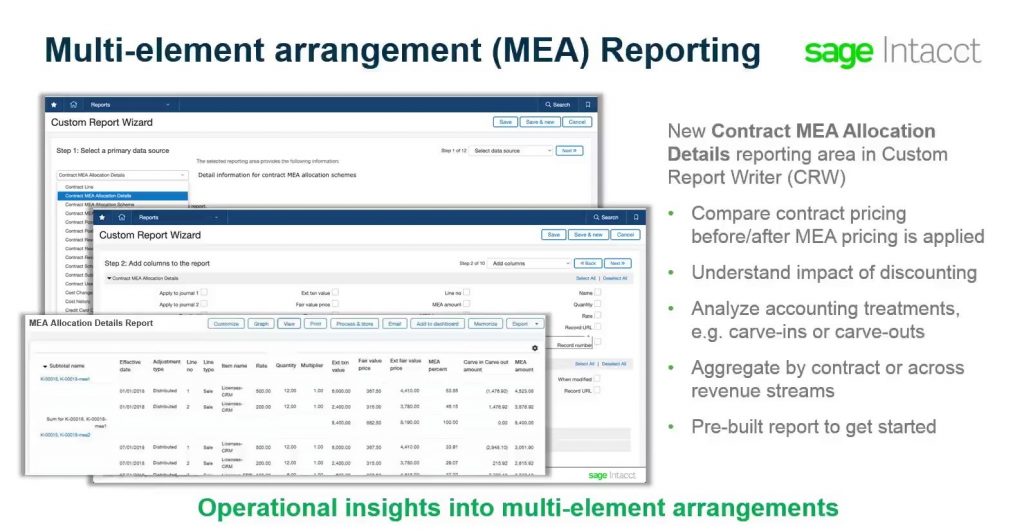 Get insight into your MEA allocations. Use the Custom Report Writer to analyze calculations and report on the allocation of transaction prices for performance obligations across contracts.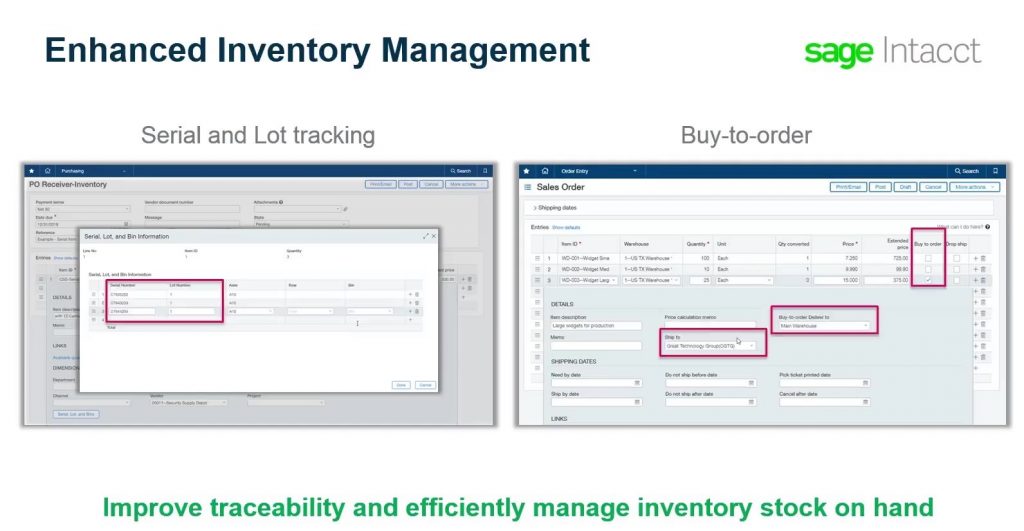 Draft mode for build kits: No more canceling a build kit when it's not just right. Draft mode enables you to build, review, and edit kits before posting. And, if you need to disassemble kits, you can also do that in draft mode.
Traceability: No more using only the serial number or lot number to track an item. you can now select both serial and lot numbers as needed. For example, if you have high-end electronic items, each with its own serial number, you might need to track some malfunctioning ones back to the lot they were produced in.
Buy-to-order: Minimize inventory costs by reducing the need for keeping stock on hand. Buy-to-order enables you to generate a purchase order for items that can come to you or go to a third party for some specialty work and then get shipped directory to your customer.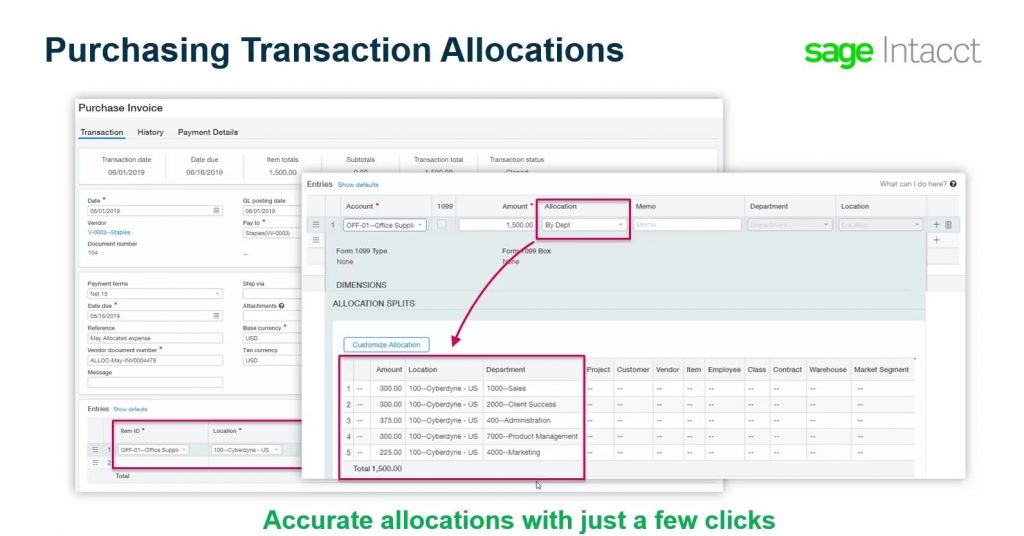 The enhanced workflow in Purchasing enables you to get more targeted reporting. You can use transaction allocations to automatically share amounts across multiple dimensions—such as departments, locations, projects, or classes. For example, you could add rent to a single line in the transaction and spread it across 4 departments. Currently, this feature applies to only those purchasing transactions that post to the Accounts Payable subledger.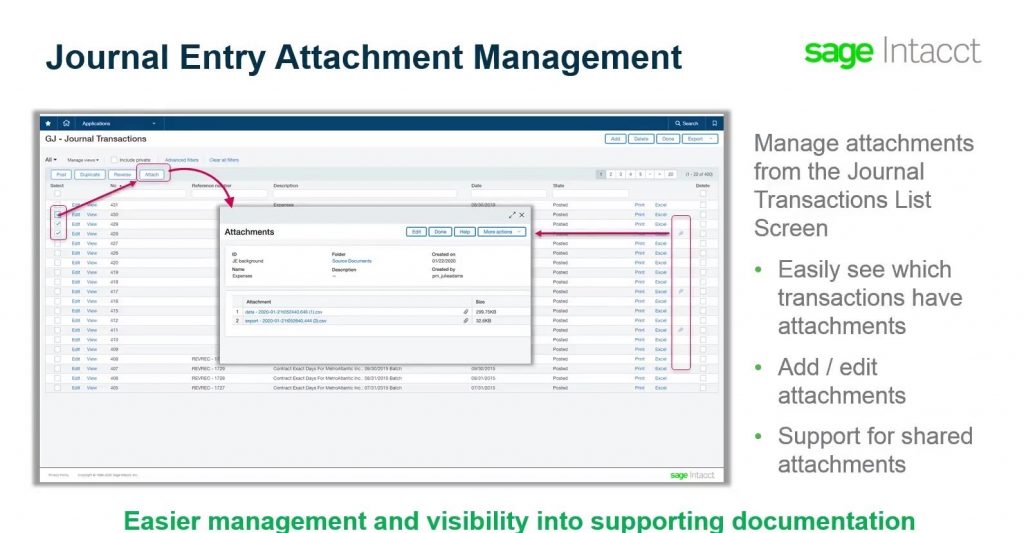 Save clicks by viewing or attaching files to journal entries directly from the journal entry list. No need to click into the record. Now you can work from your journal entry list to attach, view, or edit documents without interrupting your flow.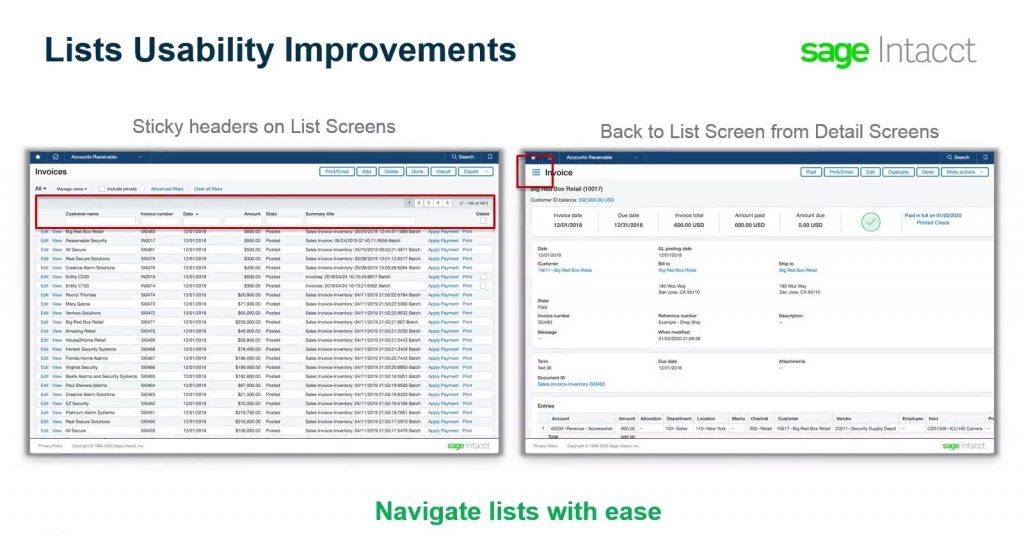 Shortcut to list page: Just as you did in our previous UI, you can return quickly to a list page from a detail page, such as an Add or Edit page.
Sticky headers on lists: We always look for ways to increase usability of Intacct with every release. With this new feature, column heads remain visible "sticky" as you scroll down through a table. For example, if you have a transaction that has 25 rows, you can scroll through the rows without losing sight of the column heads, making it easier to keep track of the meaning and purpose of each column.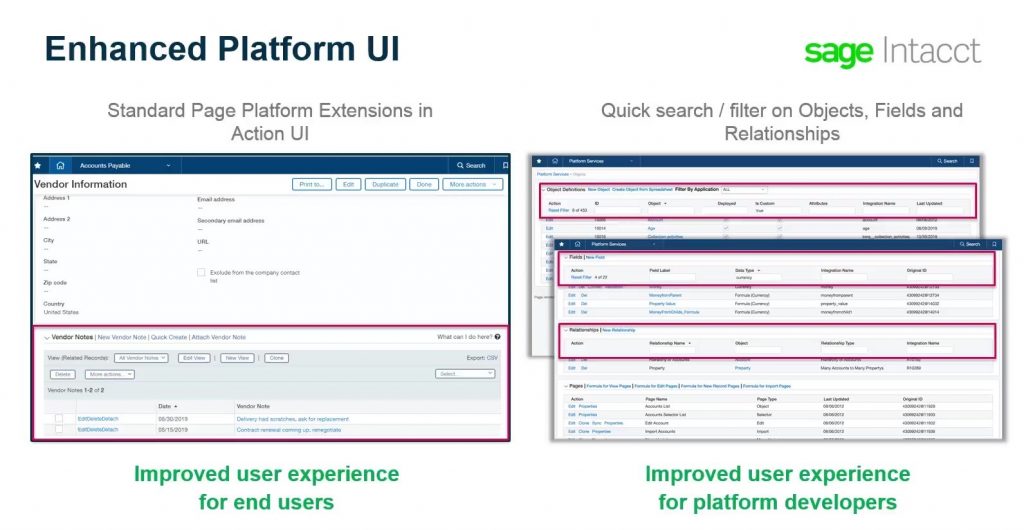 UI Preference for Custom Applications: Deliver a consistent user experience without extra effort. A new developer preference now exists to display custom applications with a look and behavior similar to Action UI. Users get a more consistent experience when using custom applications. And, as a developer, you can provide that experience without extra effort and workarounds.
Quick Filter on Objects, Fields, and Relationships: Find the objects, fields, and relationships you need in seconds. Looking for all custom objects updated since last month? No problem. You no longer need to use the browser find function or search groups of objects one by one. A quick filter now allows you to search by type, date updated, or text.
Release highlights video by VP of Product Management, Julie Adams
Sage Intacct Release Highlights 2020 R1