Globalization and the varying nature of accounting rules across jurisdictions are just a few of the reasons making consolidations become significantly more complex. According to Robert Half's benchmark study performed, 58% of companies are still manually reconciling accounts, a daunting task to achieve a clear and centralized view.
Let's take a closer look at Sage Intacct 2020 Release 2, learn how you can save hours to days when creating, troubleshooting, and reconciling inter-entity transactions.
Centralized Inter-Entity Set Up
A new centralized inter-entity set up page allows you to see, manage, and set up your inter-entity relationships all in one place.
Mapping plan. In the Multi-Entity Console, you can select the type of inter-entity GL account mapping plan you want to use for all entities: Basic or Advanced.
Inter-entity mapping. Now, use one central page to map entities to the receivable and payable accounts they use to interact with other entities.
Bulk import and export. You can change your inter-entity mappings in one fell swoop by exporting the mapping as a CSV file, editing and saving the CSV file, and importing the file back into Intacct.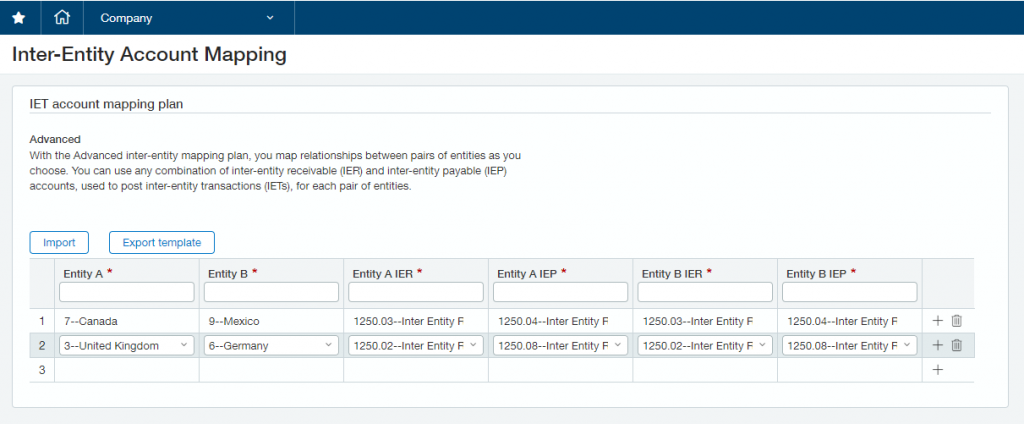 Flexible Subset Eliminations
Speaking of consolidations, Sage Intacct gives you the flexibility to automate subset eliminations during your consolidation process. And with validation rules in place to simplify inter-entity eliminations, you can be confident in the accuracy of your subset consolidations. Should you need changes to your inter-entity accounts for elimination, you simply go back to the centralized setup page and update it.
Automated Inter-Entity Transactions
Sage Intacct already automated inter-entity journal transactions, saving customers time, and eliminating manual work. Now you can automate inter-entity journal transactions across multiple base currencies, in addition to customer and vendor invoice payments, to improve accuracy and reconciliations across multi-national entities. Sage Intacct manages the exchange rates for you and automatically balances your inter-entity transaction entries to ensure accuracy and eliminate manual intervention.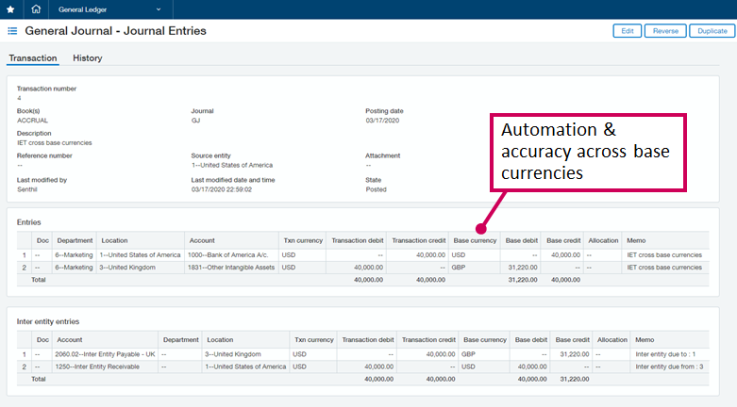 Unified Source and Inter-Entity Journal Entries
Only available with Sage Intacct, your inter-entity transactions appear together with the source entry as one journal entry transaction. From this unified view you can seamlessly drill down from reports to journal entries, to scour transaction details. Giving you the visibility, and traceability, you need for faster, easier reconciliations.

Bring it all together—quickly and accurately
In many financial management solutions, setting up an entity is a long process that often requires you to engage services. With Sage Intacct, you can save time and put away your wallet. In previous releases, Sage Intacct focused on streamlining entity set up so you can get them up and running quickly. Entity set up is so simple you can do it yourself in as little as two hours, giving you complete control and visibility throughout the entire process. New entities inherit policies and workflows automatically, eliminating a lot of time-consuming rework. Since all the relationships are shared, you don't need to worry about re-creating your reports. They'll be available as soon as your entity is set up.