Account Payable Automation
AP Bill Automation streamlines the bill creation process, automatically creating Sage Intacct bills from vendor-provided bills. You can add bills for automated processing via the Upload button or from an email address.
For each uploaded or emailed bill, Intacct creates a draft bill, populated with data captured from the bill. Using artificial intelligence, Intacct matches the bill to the correct vendor record and suggests GL accounts and dimensions, based on your bill history. Each automatically created draft includes the original bill as an attachment, for easy reference.
After AP Bill Automation has processed the bill, all that's left for you to do is to review, make any adjustments, and post. AP Bill Automation takes note of the corrections you make and uses the information to deliver more accurate results in the future.
Vendor Payments powered by CSI is now available to all US companies. It allows you to pay vendors directly from Sage Intacct, receive updates as the payment is processed by CSI, and also get insight into how and when your vendors are paid by the payment provider.

General Ledger Outlier Assistant
Following the launch last year of Outlier Detection for General Ledger, Sage Intacct is the first and only mid-market cloud accounting solution to use AI to increase confidence in the accuracy of general ledger transactions. Auto-generated flags appear for entries that don't match past transaction patterns, enabling errors to be caught before making their way into financial reporting and reaching stakeholders.
Sage Intacct 2022 Release 1 updates to this feature include customizable approval routing to send outliers back to the originator to be fixed. This routing enables the GL Outlier Assistant to be used by more Sage Intacct users, not just those who route to journal entry approvers. For those that do route to an approver, entries can now be sent back to the originator first.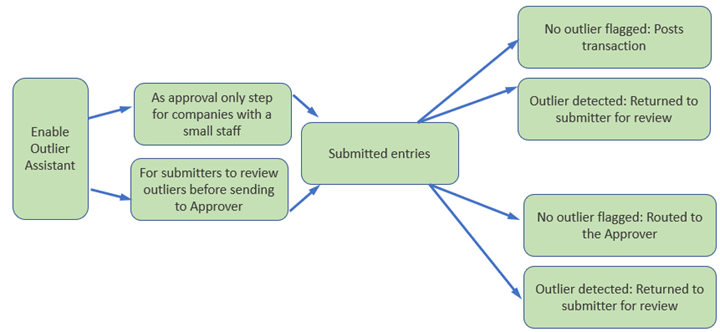 Reclassify Posted Journal Entries
Companies using GL Approvals can now reclassify journal transactions that have been approved and posted, as long as the period is open. Reclassify lets you make certain immediate changes to posted journal entries, statistical and adjusting journal entries, and user-defined journal entries. Items that can be reclassified are those things that do not substantially affect the entry. Use reclassify to change the following:
account or dimension value
memo
description
reference number
attachment
add a comment
line amounts (as long as the total of the credits and debits remains the same)

Construction Change Management and Purchasing
Create a PDF of your project change order to print or email to your internal or external contacts.
Create Purchasing change orders using the transaction currency and exact exchange rate from the source order document.
Option for Purchasing transaction definitions ensures that any new documents created from this transaction definition use this document as their primary source or base document.
Watch the release notes video to get a quick understanding of the release highlights. In addition, you can take a deeper dive here.
Sage Intacct 2022 Release 1 Highlights