Industry Feature Highlights
Subscription Billing & Contracts
Increase efficiency and remove a task from your billing process by scheduling automatic invoice runs. Create invoice policies with custom schedules and filters to target just the invoices you want to include.
Associate invoice policies in precedence order with your entities.
View invoice policy runs with drill down to generated invoices.
Get the flexibility to renew a termed contract into an evergreen contract.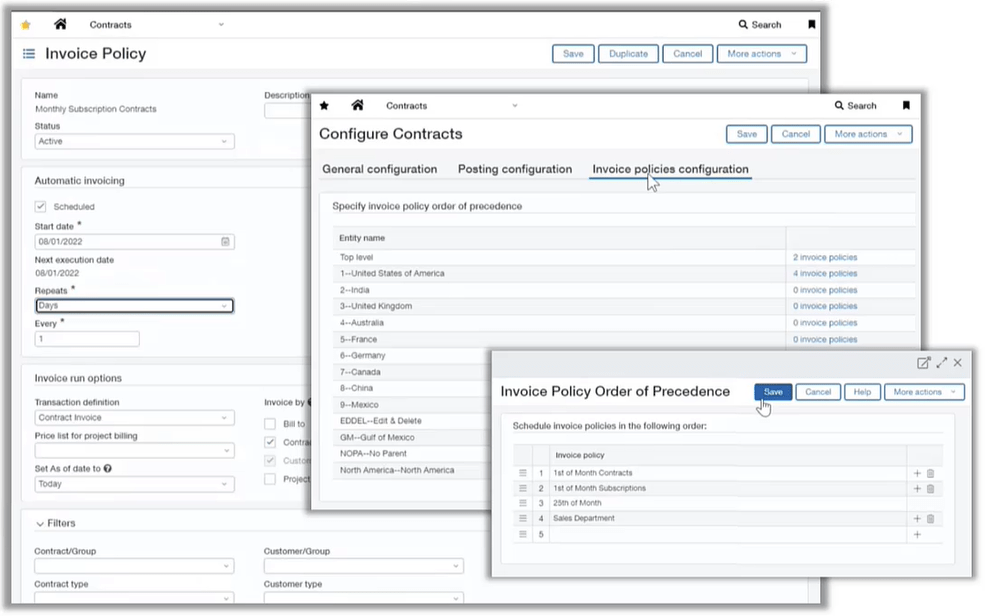 Construction project contracts
Project Contracts: Create and update information by duplicating or importing contracts and contract lines.
Projects: View key project information at-a-glance on the main Projects tab.
Purchasing Workflow: Easily access source transaction definitions from converted downstream documents.

Introducing Sage Intacct Mateo
Streamline and optimize savings and loan programs for Roman Catholic diocesan organizations:
Pay third-party vendors from savings and loan accounts.
Combine deposits to streamline bank reconciliation.
Generate monthly interest postings and bank statements.
Core Feature Highlights
Streamlined electronic vendor payments
Simplify your refund request workflow for virtual card payments. If vendors don't accept the original virtual card payment, the refund process enables you to put a block on the virtual card and redeposit funds back to your account. And, get visibility into vendor discrepancies and how to correct them.
Increased Dynamic Allocations flexibility
Automate period allocations of revenue and expenditure.
Support per dimension value allocation for Employee and Project.
Enable restricted users to leverage Dynamic Allocations.

Accounts Payable and Accounts Receivable enhancements
Improved multi-currency support for AP Advances.
Easily track and advance throughout its life cycle from the AP Advances page.
Eliminate confusion and clarify tasks with a simplified Receive Payments workflow.
Role-based dashboards for pre-built insight
Save time and get critical business information instantly with 6 out-of-the-box dashboards designed specifically for roles like AP and AR Managers, CFOs, Controllers, and Department Managers.
Reconciliation rules—Create credit card transactions
Automatically create credit card transactions in Sage Intacct. New transactions match to bank transactions for reconciliation, saving you time and helping to eliminate the month-end close.
---
Watch the release notes video to get a quick understanding of the release highlights. In addition, you can take a deeper dive here.
Sage Intacct 2022 Release 3 Highlights